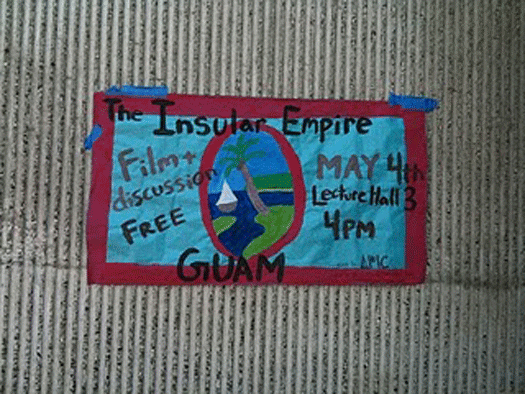 Tuesday's screening at Evergreen State College was a huge success. Sponsored by the college's Asian Pacific Islander Coalition, and spearheaded by Evergreen student and Guam native Jayanika Lawrence, the screening was well-attended by both students and faculty. Ms. Lawrence had put together an information table full of books on the Marianas and American colonization, and also created a panel – comprised of herself, myself, and one other student from Guam – to answer questions from the audience after the screening. Their questions were incisive and intelligent – ranging from issues around the current military buildup and Guam's relationship with Okinawa, to questions about why we chose not to address environmental concerns (such as Guam's notoriously invasive brown tree snake) in the film.
Evergreen is an odd place – nestled in a rain forest, its 70's era cement brutalist buildings look inward at each other, ignoring the lush thickets surrounding them – but the people there were warm, welcoming, and very much engaged. One faculty member in particular, Dr. Zoltan Grossman, mentioned during the Q&A that he was planning to use the film in his course on a People's Geography of American Empire – a more fitting title than any I could have invented myself – and suggested that they might want me to come back again next year. I told them that I'd be delighted.
Yours truly (Filmmaker Vanessa Warheit) with Jayanika Lawrence (third from right) and members of Evergreen's Asian Pacific Islander Student Coalition.